Yakima Waste Systems provides convenient residential collection services for our customers. Our mission is to provide quality services and recycling programs to help our customers reduce, reuse, and recycle to keep our state and Yakima County in pristine condition.

At Yakima Waste, we are dedicated to the area, our friends, neighbors and customers, and the environment and offer temporary roll-off services, recycling services, and yard waste pickup to help meet our mission.
Click here to Lookup - Residential Pickup Schedule
Yakima Waste Systems offers three types of residential collection services:
Garbage - Weekly
Recycling - Biweekly

Yard Waste - Biweekly
Special pickups and vacation accommodations are available for our residential customers.
---
To request residential service call 509-248-4213 or email us.
Contact Us
---
Residential Garbage Service Guidelines
Garbage cans/carts must be available at 6AM.
Cans/carts must be 5 feet from the road or curb and visible.
Make sure can/cart lid is completely shut and that the waste is level across the top of the can. Overfilled/overweight charges may apply
Please call and report missed pickups immediately so that we can make sure you get serviced. (Return trip fee may apply). IF we are not notified, then we do not know that you have been missed.
Vacation credit is given, but please call in advance to request a Vacation Hold.
There will be a $12.17 handling charge on all returned checks.
Notification of address change, service changes or termination of service is the responsibility of the customer.
Not Accepted Items
Ammunition
Batteries of any type
Electronics
Household hazardous waste
Medical waste
Sharps or needles
Tires
Remodeling waste, drywall
Dirt, rocks, concrete or large diameter pieces of wood or metal
Appliances including water tanks
Sod
Loose ashes
Dead animals must be triple bagged
Garbage
Containers: Grey with black lid
Sizes: 48 Gallon, 64 Gallon, 96 Gallon
Frequency: Weekly


---
Single Stream Recycling
Container: Grey with blue lid
Size: 64 Gallon
Frequency: Biweekly



Recycling - Accepted Items
ONLY THESE PAPER ITEMS:

Newspaper
Corrugated cardboard boxes
Direct Mail
Cereal, cracker, shoe boxes (chipboard)
Office paper, copier and printer paper, file folders, note paper, computer paper, brochures
Magazines and catalogs
ONLY THESE METAL ITEMS:
Steel (tin) cans
Aluminum cans

ONLY THESE PLASTIC ITEMS:
Plastic bottles: #1 PET and #2 HDPE, soda bottles, water bottles, milk jugs, orange juice bottles and jugs, detergent and cleaning solution bottles
Recycling - Not Accepted

#3 - #7 Plastic
Plastic bags and plastic films of all kinds
Flower pots
Paper milk and paper juice cartons
Aseptic packaging
Shredded paper
Glass
Hazardous and medical waste of any type
Diapers
Fabric (textiles) of any type
Wire, rope, chain, garden hoses, Christmas lights
Wood
Trash (put the garbage in garbage bin)
Any item not on the listed on the Accepted Recycling Items list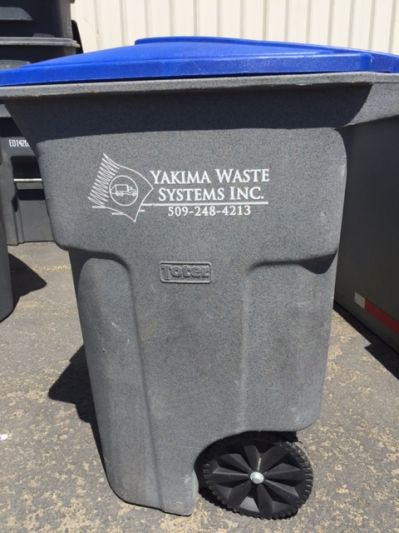 ---
Yard Waste Recycling
Container: Grey, 96 gallon
Load Limit: 200 pounds
Frequency: Biweekly – year round



All yard waste must be placed in a yard waste tote for pickup. Residents who have higher volumes of yard waste may request additional totes. Call or email to learn the additional cost.

Since yard waste is composted, no plastic bags are allowed in the container or for use to hold additional yard waste. Also, all bundled yard waste must be tied with natural materials – no wire or plastic allowed.
Accepted Items
Brush
Grass clippings
Leaves
Vegetation
Shrub trimming & pruning cut and bundled into 3 foot lengths & tied with cotton or jute twine

Not Accepted Items
Ashes
Food,fruit, and vegetables
Garbage
Pet Manure
Plastic bags
Rubbish
Sod, dirt, and rocks
Electronics Recycling - Drop Off

While electronics are not allowed in any Yakima Waste collection container, residents may drop off electronic items covered under E-Cycle Washington. These items are accepted free of charge whether they are functioning or not. To learn more call 1-800-Recycle or visit their online database.

Electronic Items Accepted for Drop Off

All televisions
Computer monitors
Computer towers
E-readers
Laptops
Portable DVD players (not ones that require being connected to a tv set)
Tablets
Drop Off Location:

Yakima Waste Systems Inc
2812 1/2 Terrace Heights Drive
Yakima, WA 98901

Payments
Residential customers are billed bimonthly on the 1st of the month with payments due by the 30th.

Payments accepted include: Checks and Credit Cards (American Express, MasterCard, Visa)